2023/24 volunteering season
Save the dates!
Saturday 18 November - Details coming soon!
Saturday 6 April
Saturday 20 April
Volunteering with Wilding Free Mackenzie
Community
Volunteering with Wilding Free Mackenzie is a wonderful way to help protect the beautiful and iconic nature of the Mackenzie Basin. The volunteer season runs between October and April every year with a number of community volunteer events held at a range of locations. Our community events are for all ages and abilities, so everyone is welcome.
Schools, corporates and other groups
Wilding pine volunteering is a great day out of the office for workplaces, especially in the leadup to Christmas. It is also a fantastic opportunity for experiential learning about our natural environment for school students. If you are interested in arranging a day out for your group please contact our community coordinator who will work with you to organise an event especially for you!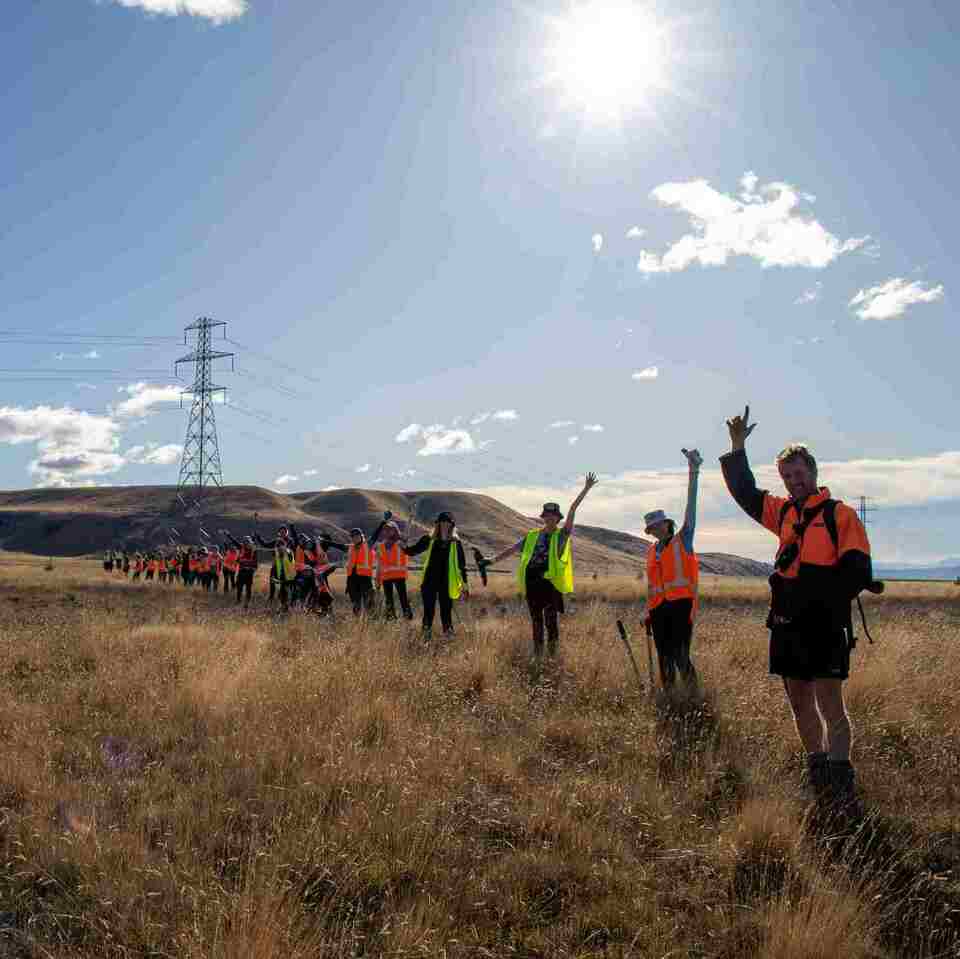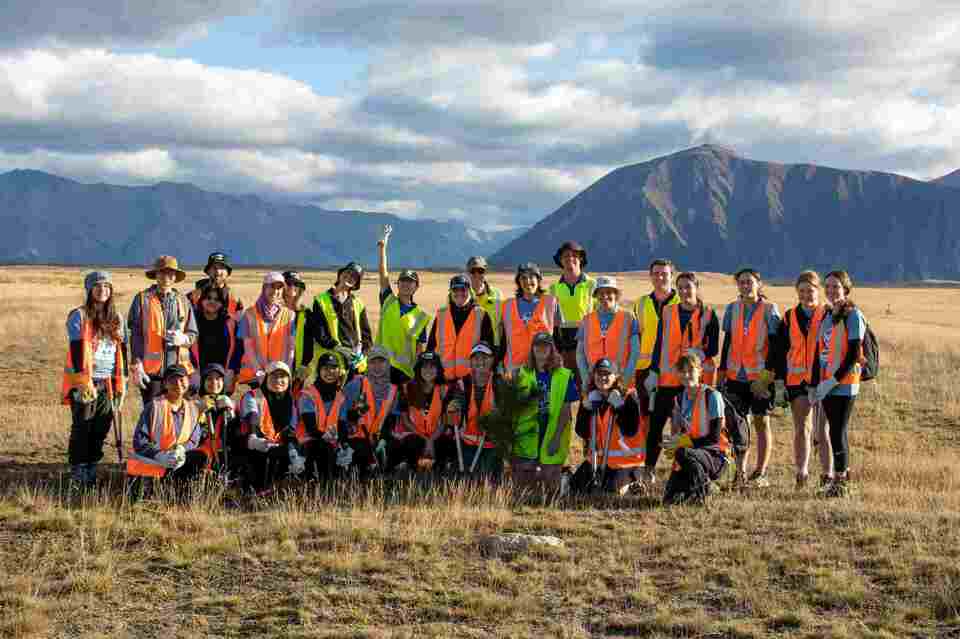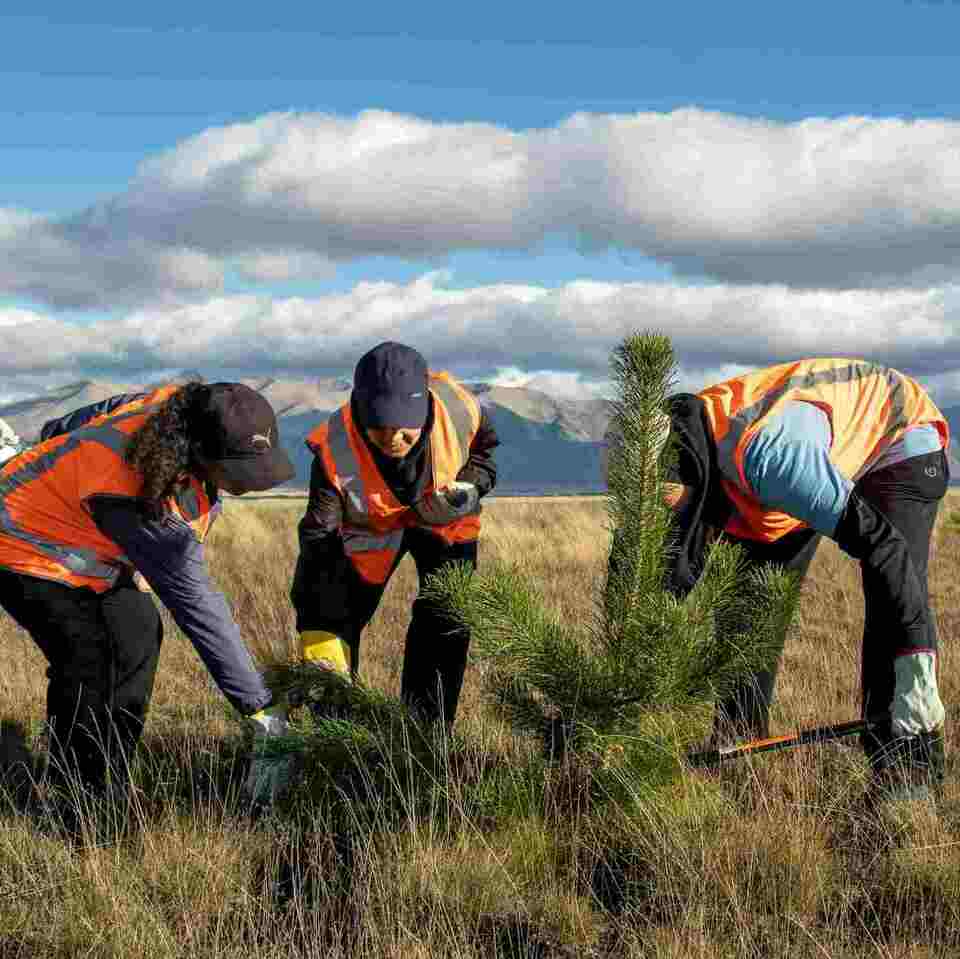 May 2023 Student Volunteer Army (University of Canterbury)
What a treat to be approached by the University of Canterbury's Student Volunteer Army. We teamed up with Ohau Conservation Trust, Department of Conservation, Environment Canterbury and Mainland Vector Contracting to host 80 student volunteers who helped to protect and transform the Lake Ōhau Basin area over a weekend-long volunteering camp in Twizel and Ohau.
Throughout the weekend the student volunteers removed 1000 wilding pines from the Ōhau Downs Conservation Area, set 54 predator traps west of Lake Ōhau Village, and assisted students from Waitaki Boys' and Girls High Schools and residents from the Ōhau Village to plant a whopping 1083 native trees in Avoca Forest, at Lake Middleton. Well done to everyone involved, and thank you for taking the time to help protect this special part of Aotearoa. Team work really does make the dream work!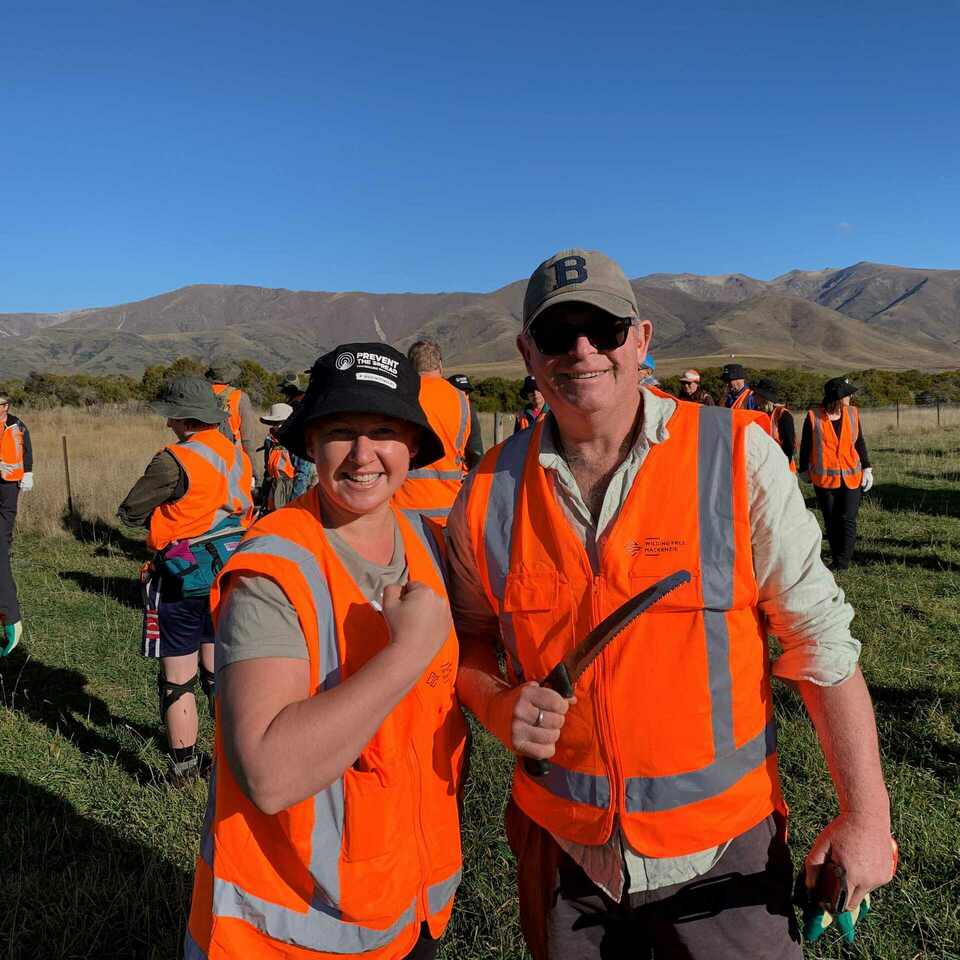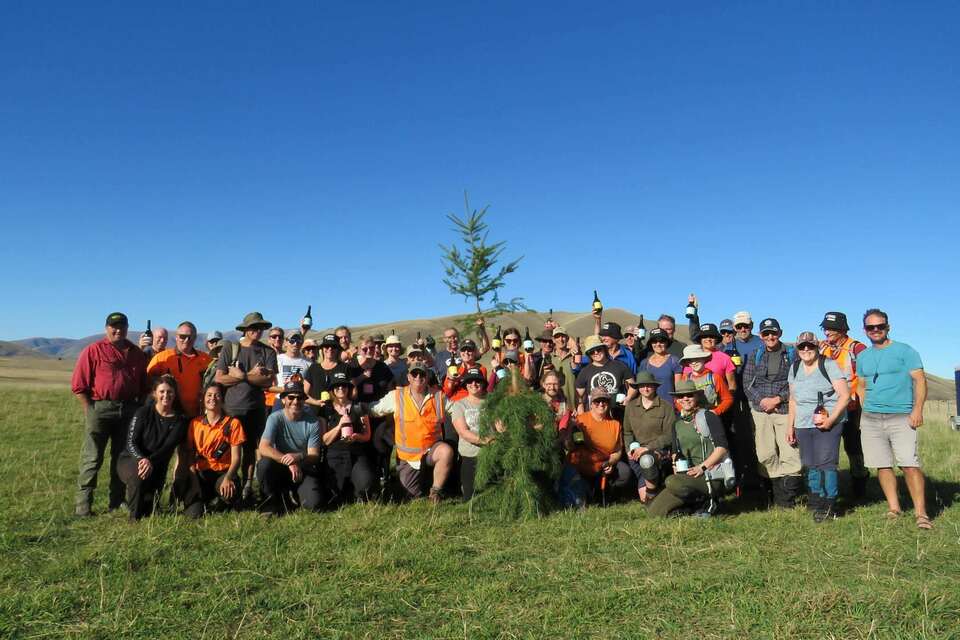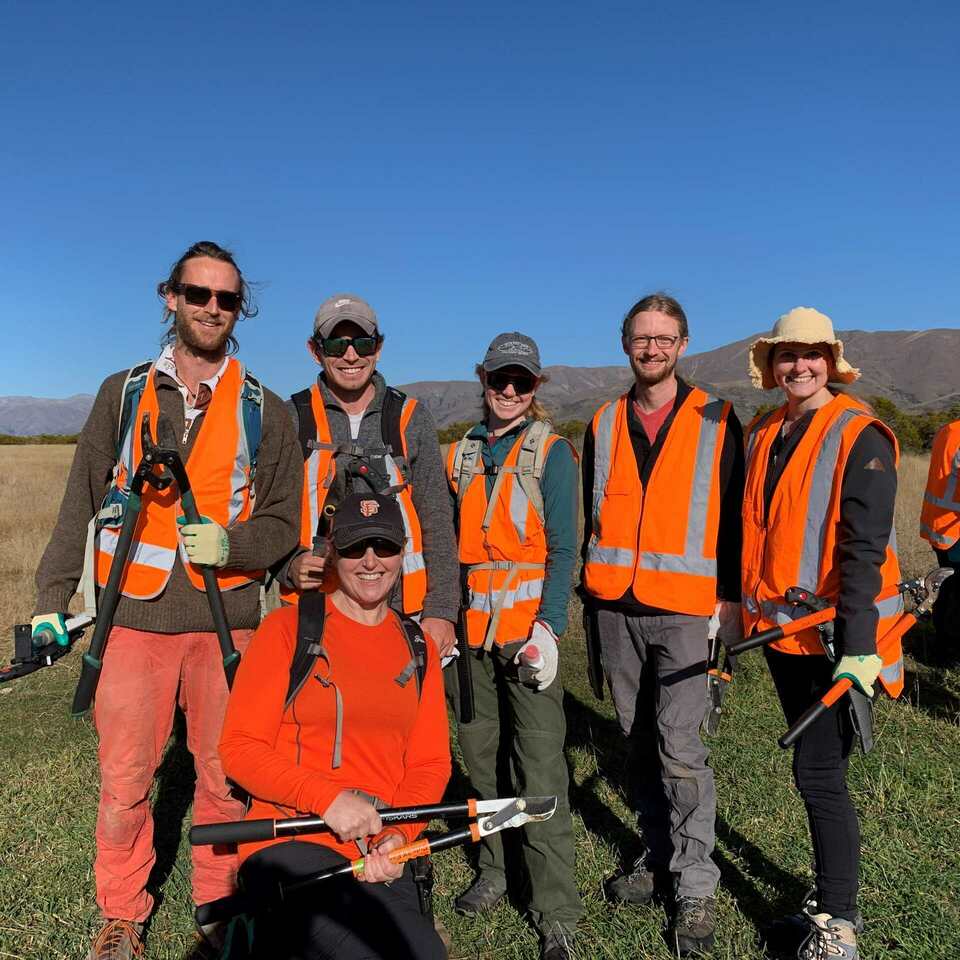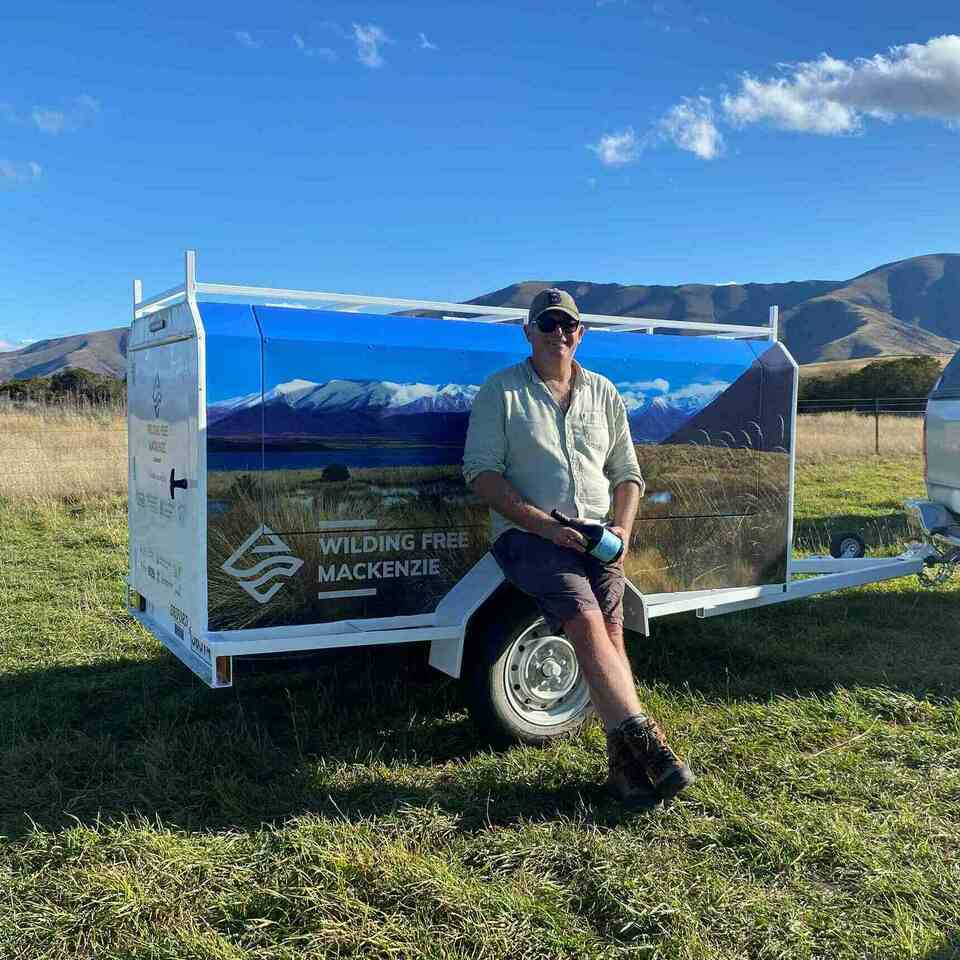 April 2023 Ben Dhu Scientific Reserve continued... with help from extra special guest Al Brown, kiwi chef!
The final community volunteer day for the season took place on April 29 at Ben Dhu Scientific Reserve, with a record turnout of 36 volunteers and 108 volunteer hours contributed to wilding pine control in just one day!! This may have been due in part to the presence of Al Brown at this event, a significant drawcard for some. But whatever the cause it was a fantastic turnout and hugely successful day. Volunteers were also thrilled to be able to take home a complementary bottle of Tipping Point Wine at the end of the day, thanks to Al Brown and Constellation Brands.
Despite the massive effort by volunteers on the day we still have not completed this site!! The beautiful native vegetation is making this site much slower going than we had anticipated, so we plan to return once again in the 2023/24 volunteer season to (hopefully) finish it off!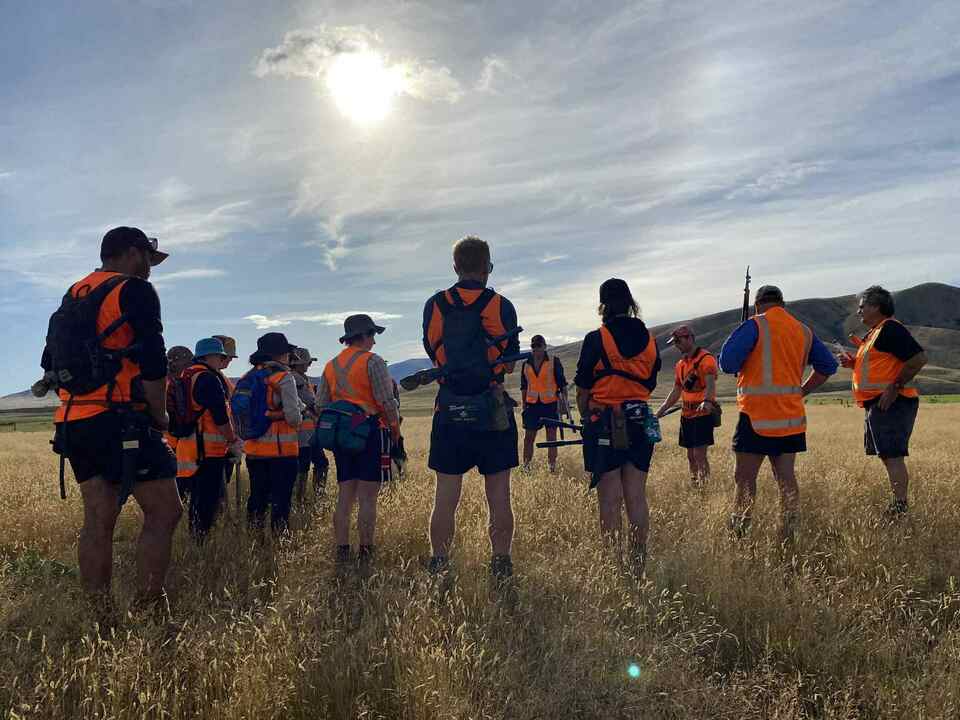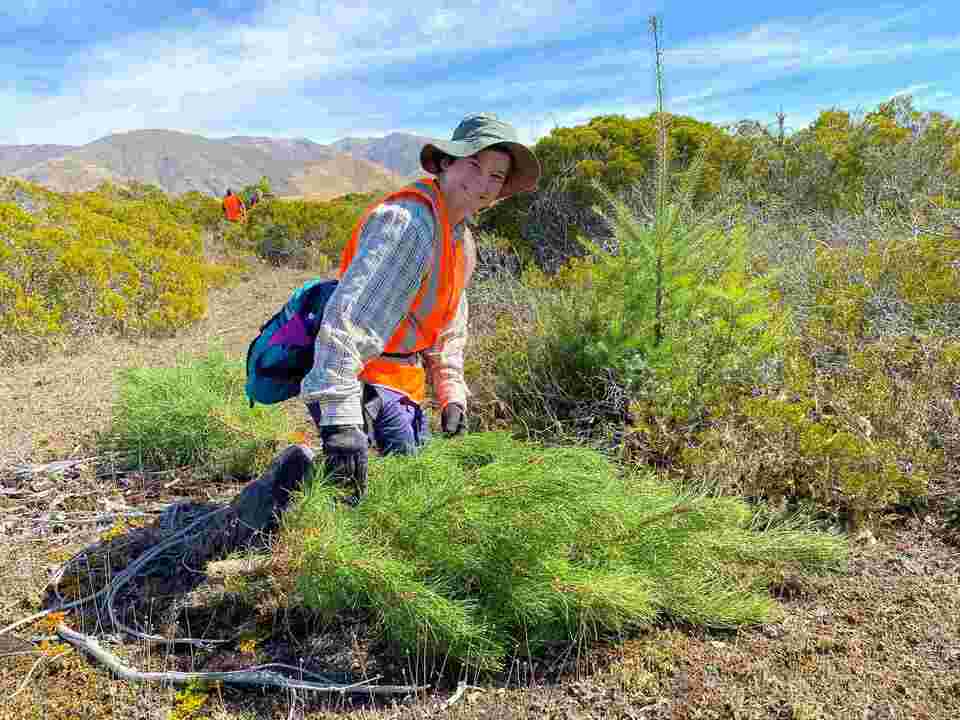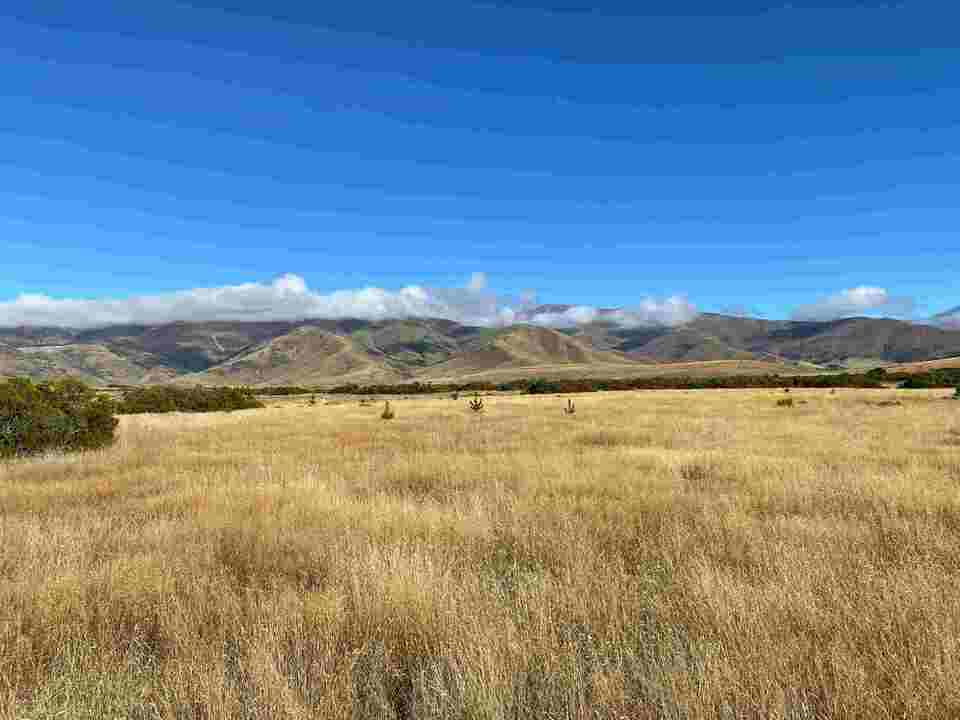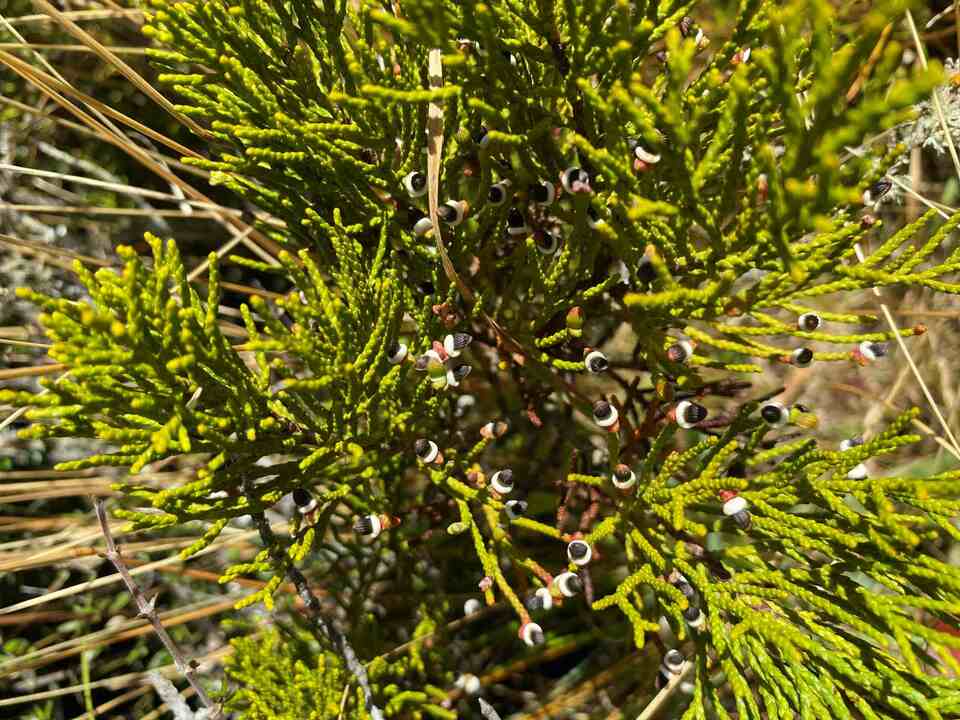 March 2023 Ben Dhu Scientific Reserve
With two community volunteer days at the Ben Dhu Scientific Reserve in March we made a fair dent in the wilding pine infestation that threatens this special patch of remnant native scrub. Prior to human habitation the Mackenzie Basin floor would have been home to many more patches of scrub like this, but over time through burning and land clearance for things like farming, most of these distinctive low-stature woodland sites have disappeared.
This particular site is often referred to as the best example of intact remnant bog pine in the region. Bog pine (Halocarpus bidwillii) is one of our precious native conifers. It is much slower growing than the invasive exotic conifer species that we call wilding pines, and is therefore very vulnerable to being lost from this site too. Interestingly, despite their low-stature, many of the individual bog pine trees at this site are more than 100 years old!
Other natives at this site include coral broom, mountain toatoa, coprosmas, native daisies, hard tussocks, cottonwood, matagouri, and a range of lichens and mosses, including sphagnum moss in the central wetland area that runs through the middle of the site.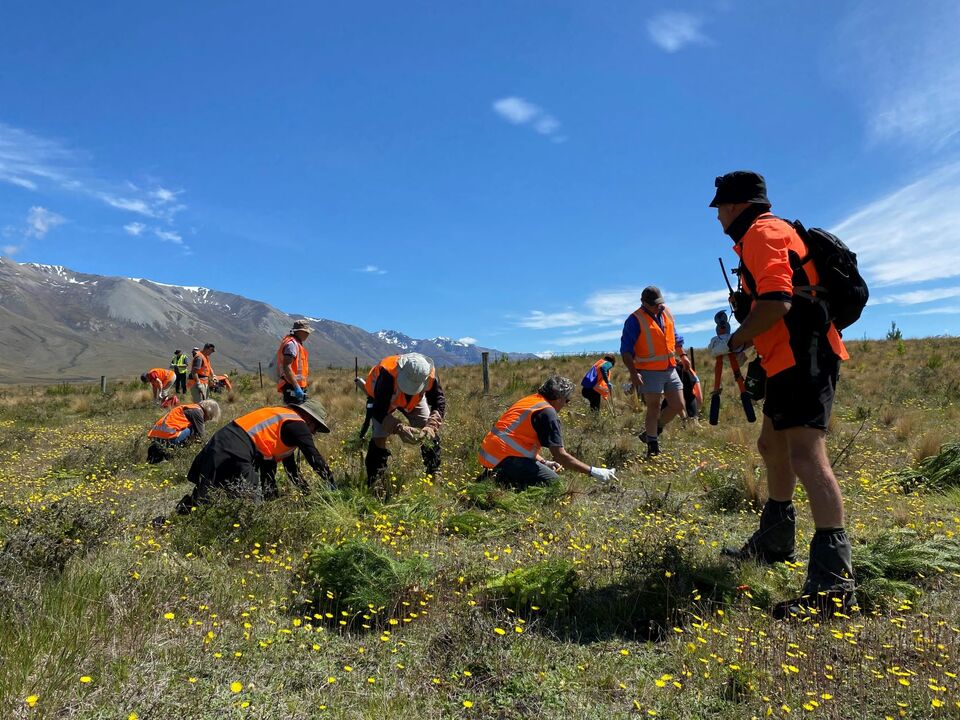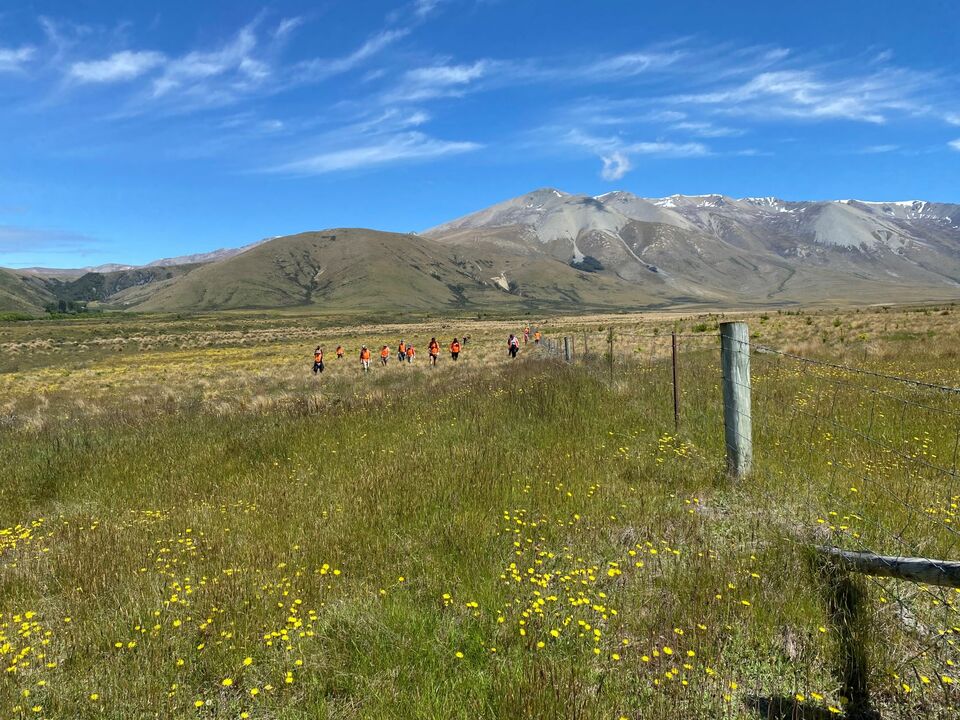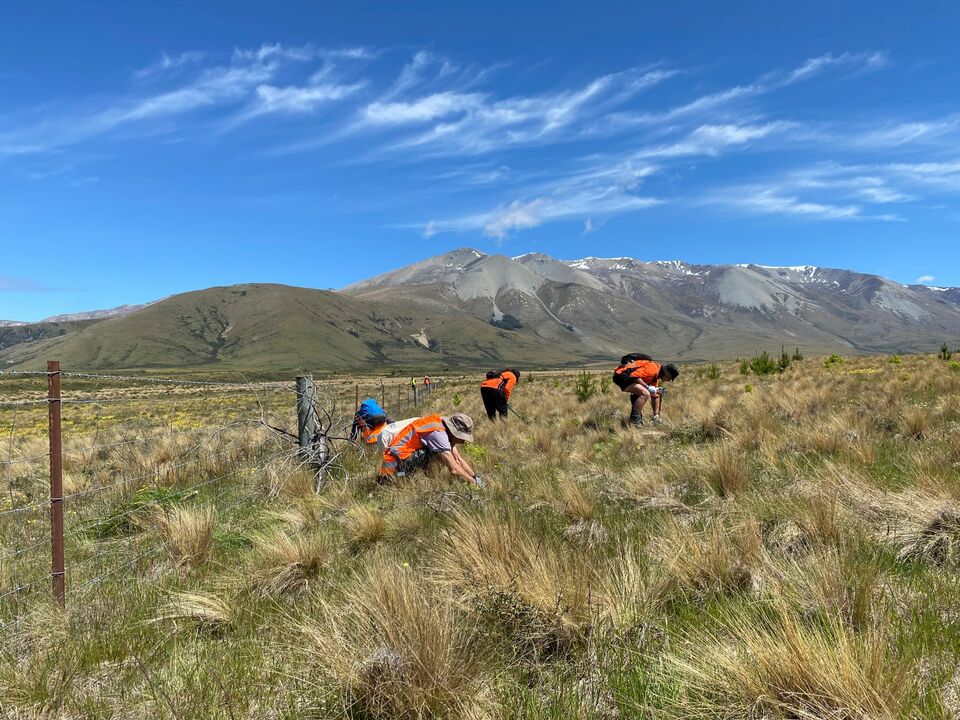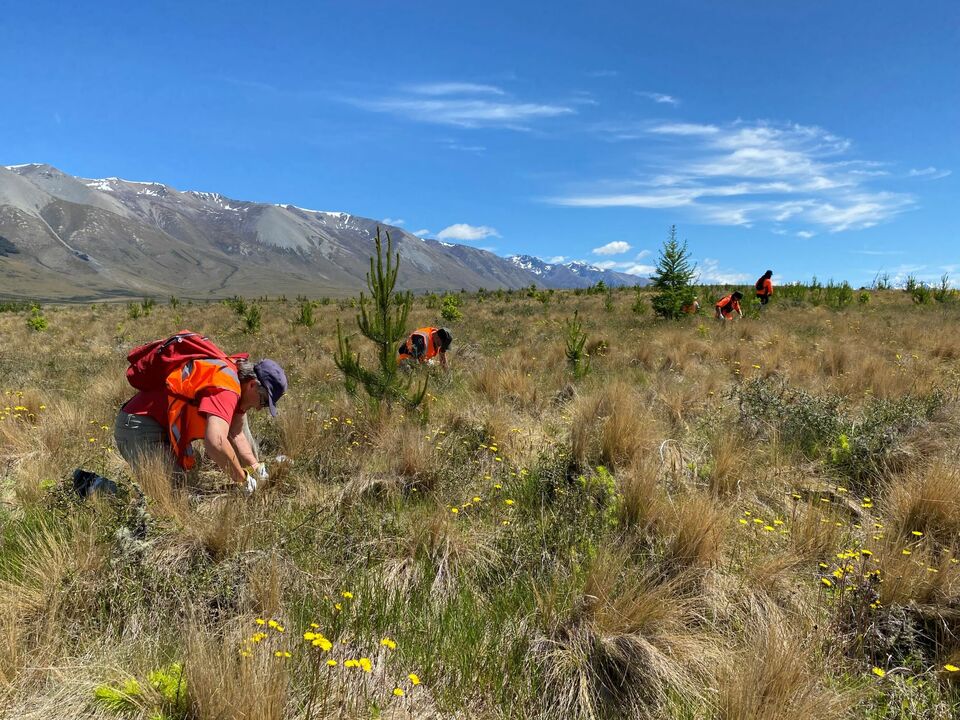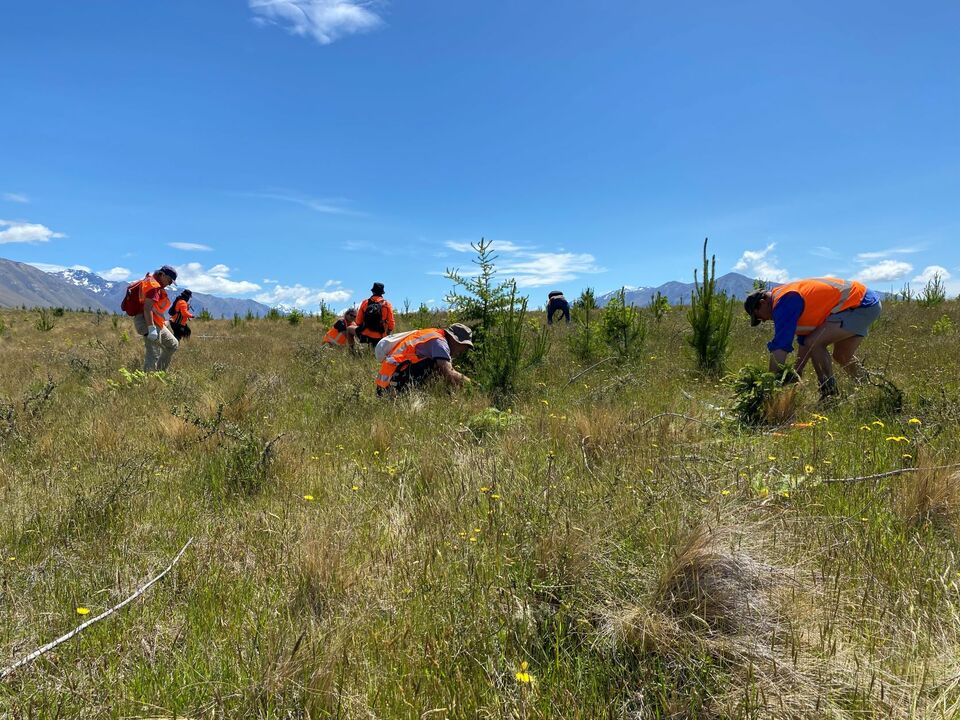 December 2022 Ohau Moraines Wetland revisit
In early December we revisited the Ohau Moraines Wetland Complex to continue on from where we left off in April.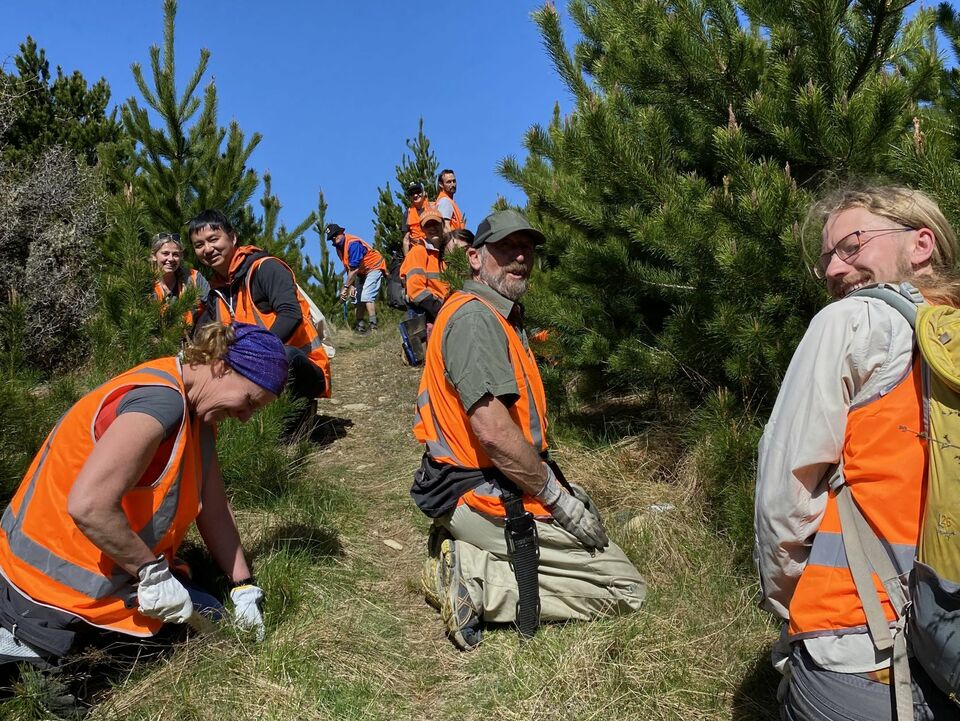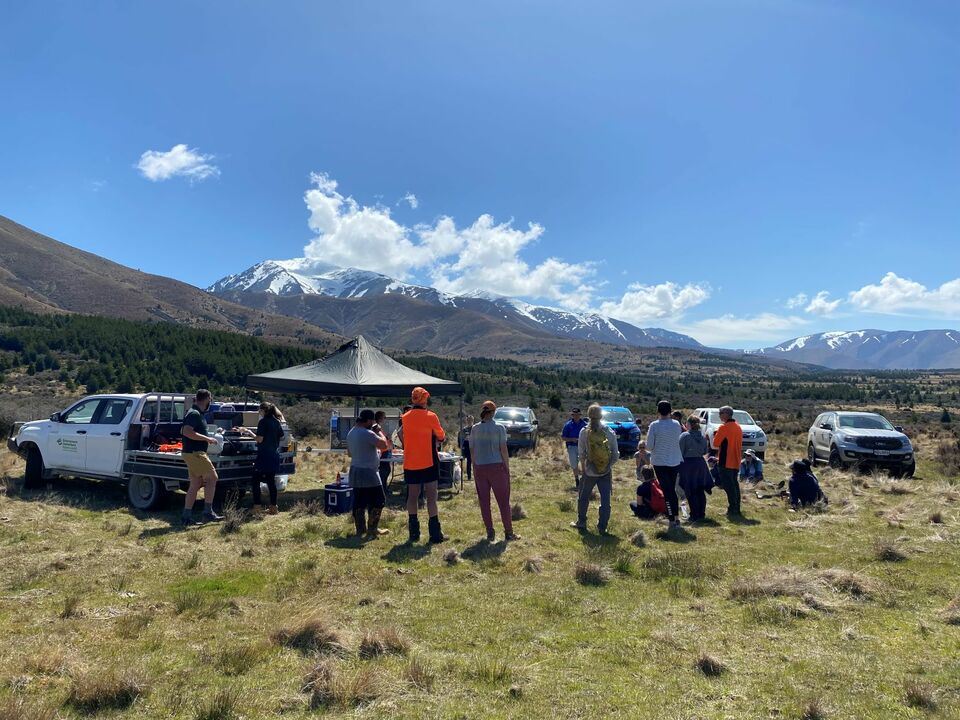 October 2022 Dusky Trail, Twizel
In the weekend leading up to the Meridian Twizel Hard Labour multisport event we took a bunch of hard-working volunteers onto the Dusky Trail behind Twizel to clear the section of trail with the thickest wilding pine infestation.
The 1km section of trail which we focused on was so densely infested that when I took my bike out a few weeks prior to investigate I had to put my head down and use my helmet to push my way through overlapping pine branches and was left with stripes of pine sap all over my arms and legs. It was certainly in no state for a mountain bike race, but the perfect location to draw attention to the devastating impact that wilding pines are having on our local environment.
In this instance wilding pines are directly impacting the accessibility of a popular recreation asset, the Dusky Trail, and significantly changing the look, feel and function of the intermontane landscape that both the trail and the Meridian Twizel Hard Labour Weekend intend to showcase.
The fragile intermontane basin ecosystems of the Mackenzie and Upper Waitaki basins are nationally rare. These ecosystems consist of mountain lands, shrublands and tussock grasslands at the higher altitudes, and glacial outwash surfaces, moraines, braided rivers, river margins and wetlands in the lower areas. Intermontane basins are unique in New Zealand and home to many endemic plants and animals, many of which are already rare. The current damage from wilding pines on these ecosystems is devastating to see and if it is allowed to continue even for just another year or two in many instances it will be irreversible.
We greatly appreciate the help of the wonderful volunteers who took the time to clear the Dusky Trail to a functional state last weekend. Locals and visitors alike would have raced past all your hard work on their mountain bikes during the Hard Labour Weekend event, and hopefully not have even noticed your efforts!
Special thanks to Rhoboro Downs Station for allowing us access across the farm for the volunteer day, and a huge thank you to our supporters for their enduring assistance – Tipping Point Wines, Community Trust of Mid and South Canterbury, Land Information New Zealand, Environment Canterbury, Department of Conservation, PGG Wrightson, Wilding Pine Network, Mackenzie District Council, Ohau Conservation Trust, Ministry for Primary Industries, Meridian Energy, Mainland Vector Contracting, High Country Contracting, Aoraki Tree and scrub Control.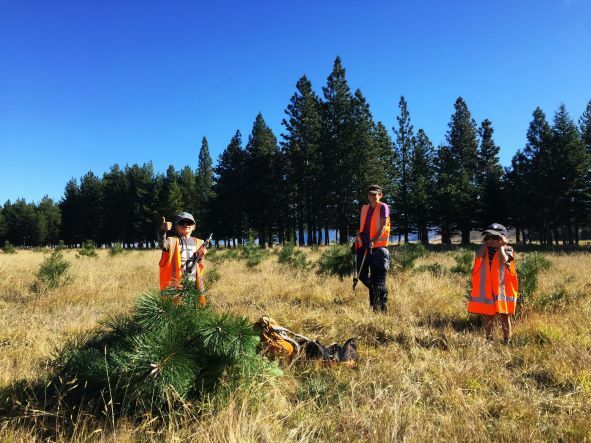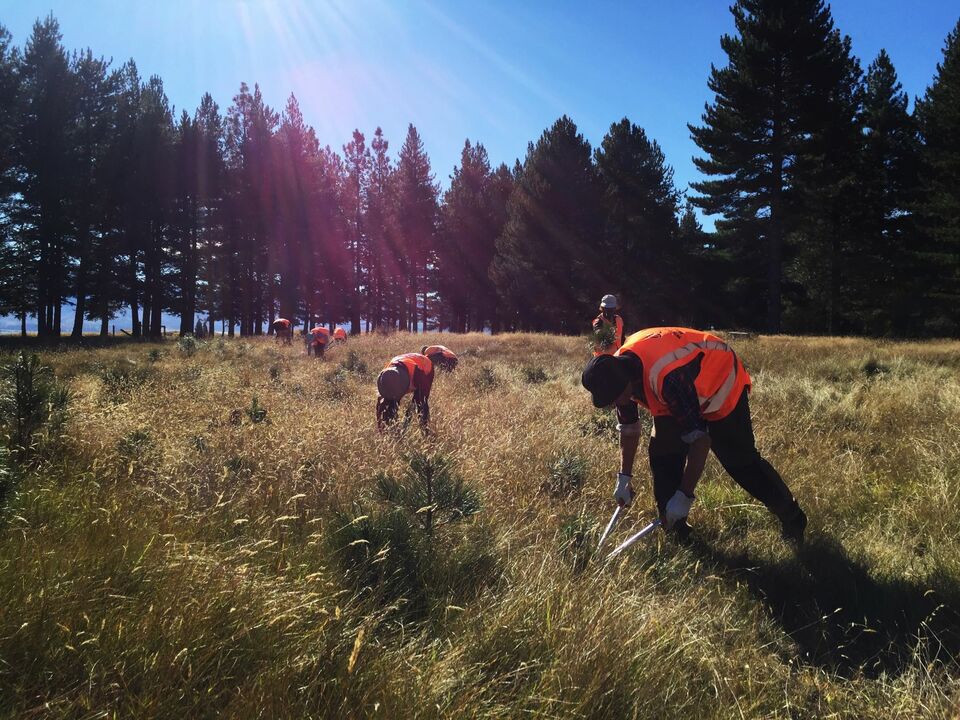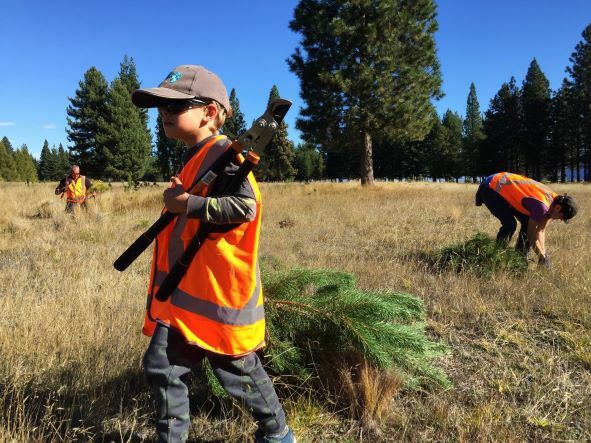 April 2022
North West Arch walkway, Twizel
Twizel can sleep a little safer now with 560kg of young wilding pines removed from the North West Arch walkway yesterday, to reduce fuel loading and fire hazard. The open, grassy areas will be mowed in spring to further reduce fire hazard and turn it into a more park-like space. This is a great example of a site where a phased removal of the mature wilding trees, and replacement with species that are not prone to spreading, would be beneficial for long term minimisation of fire hazard, and to maximise potential as a safe and accessible recreation asset. Thanks Mackenzie District Council and our amazing volunteers!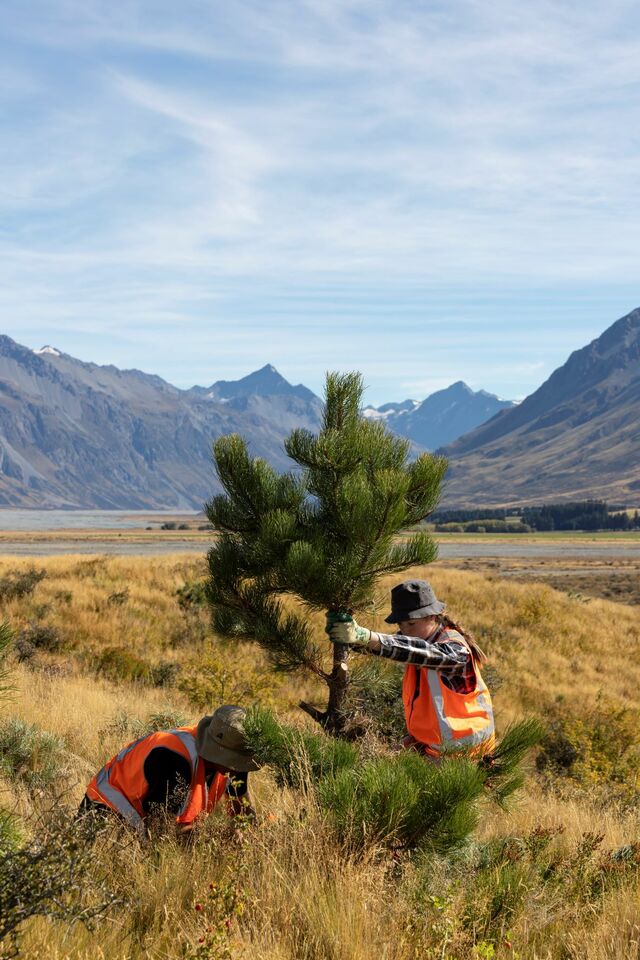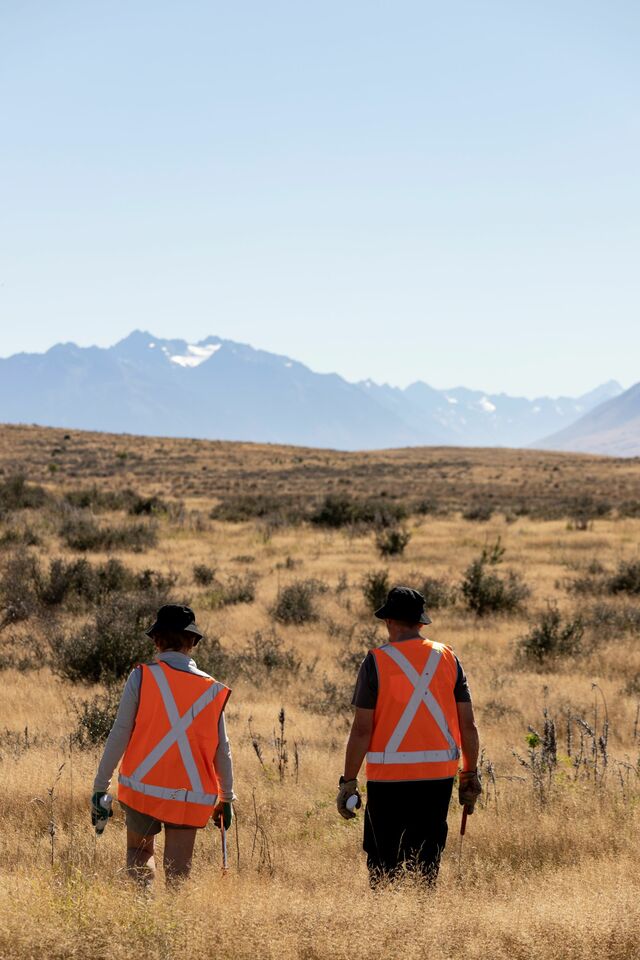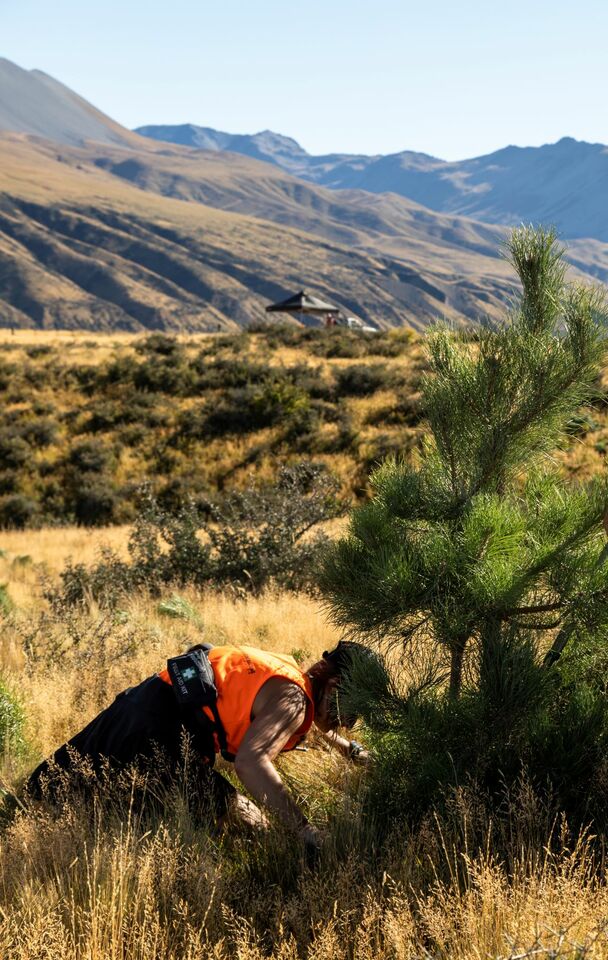 March and April 2022
Lilybank Station and Ohau Moraines Wetland Complex
Wilding pine volunteer days in the Mackenzie Basin have proven to be very popular this Autumn, with fantastic turnouts at both events, including an appearance from MDC Mayor Graham Smith.
The event on March 26th was held at Lilybank Station, an organic high-country station near Lake Tekapo, which is currently in the process of transitioning from running deer and cattle, to cutting its stock units significantly and focusing on the organic oat market. The first challenge to managing wilding pines on this site is that it is organic, so the use of chemical is not an option. This means all pest plants must be controlled manually, which is quite a task on a property of over 2000ha.
The second challenge is that as stock units are reduced on the farm there is less grazing to suppress the emergence of young wildings, and therefore many more young trees are appearing in the landscape. This is a great example of a site that would benefit from the removal of old shelterbelts and erosion-control plantings, which typically consist of wilding pine species, and replacement with species that are not prone to spreading. If you have a property in the same situation, you can find information about suitable alternative species over on the resources page.
Huge thanks must go to Lilybank Station for allowing us to chop down wildings on their property and learn about the challenges they are facing with wilding pine management.
The second volunteer day this Autumn was held at the Ohau Moraines Wetland Complex, near Omarama, on April 9. Wetlands are an important resource for maintaining water tables, preventing flooding, filtering water, and storing carbon, yet they are one of the most threatened and least protected ecosystems in Aotearoa, with less than 10% remaining. At over 700ha the Ohau Moraines Wetland Complex is one of the largest wetland areas to be protected in recent years anywhere in the country. It is home to several rare and threatened plant and animal species, including the tiny native fish Galaxias macronasus, which is only found in the Mackenzie Basin.
Thank you to the Department of Conservation for allowing us to control wildings at this beautiful and fragile site.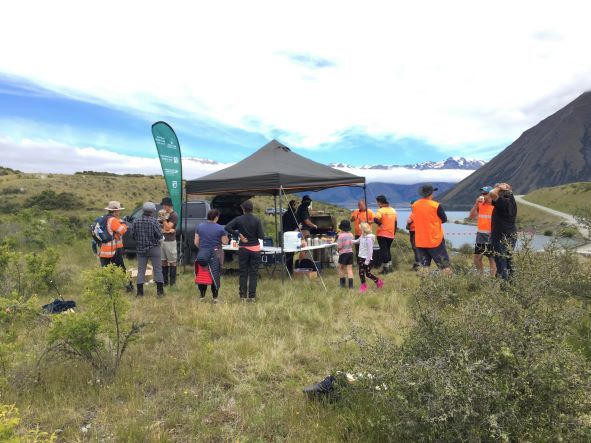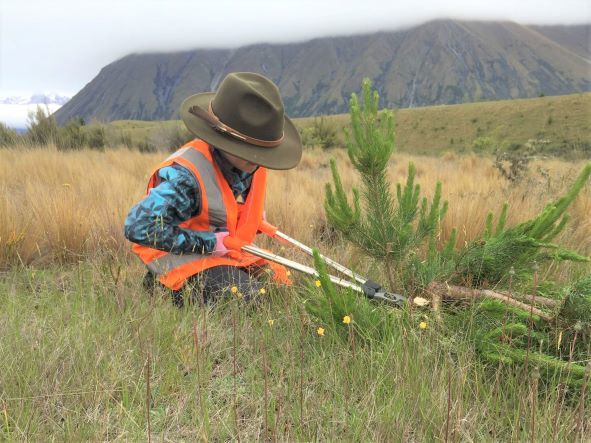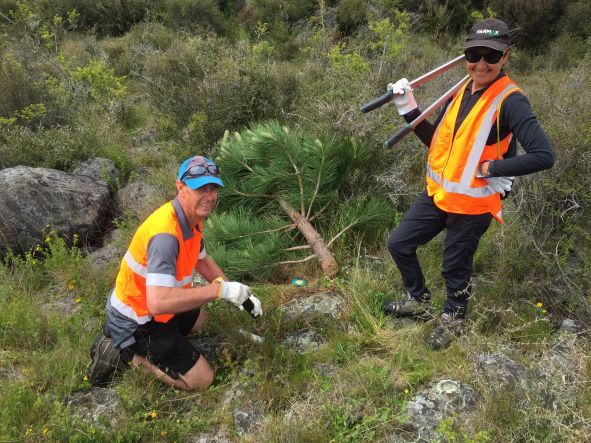 November 2021 - Upper Ohau River
With the help of the weather gods holding back the rain we were able to go ahead with the community volunteer event in the Upper Ohau river on 28 November. The Upper Ohau river provided a refreshing change from the usual tussock dryland we have worked in previously. It is a really neat location with an interesting mix of native scrub vegetation on the border between the Ohau and Twizel ecological districts. We had a small turn out on the day which was largely a result of having to postpone the event several times due to wet weather. But we still managed to successfully drop wilding pines across ten hectares of land. Big thanks to Meridian Energy and Land Information New Zealand for having us on your land!!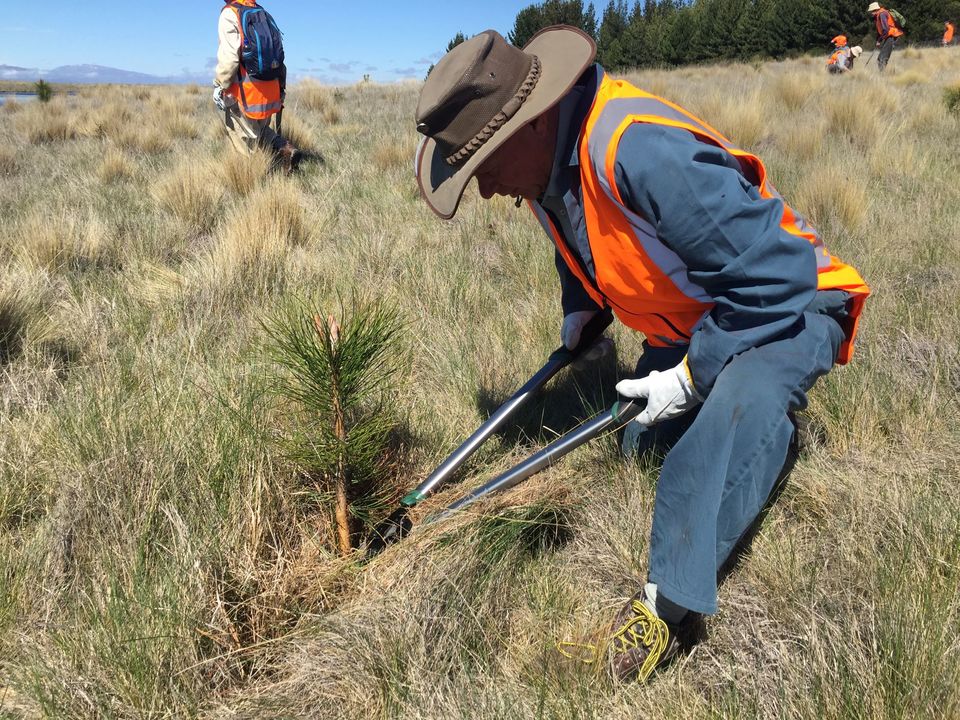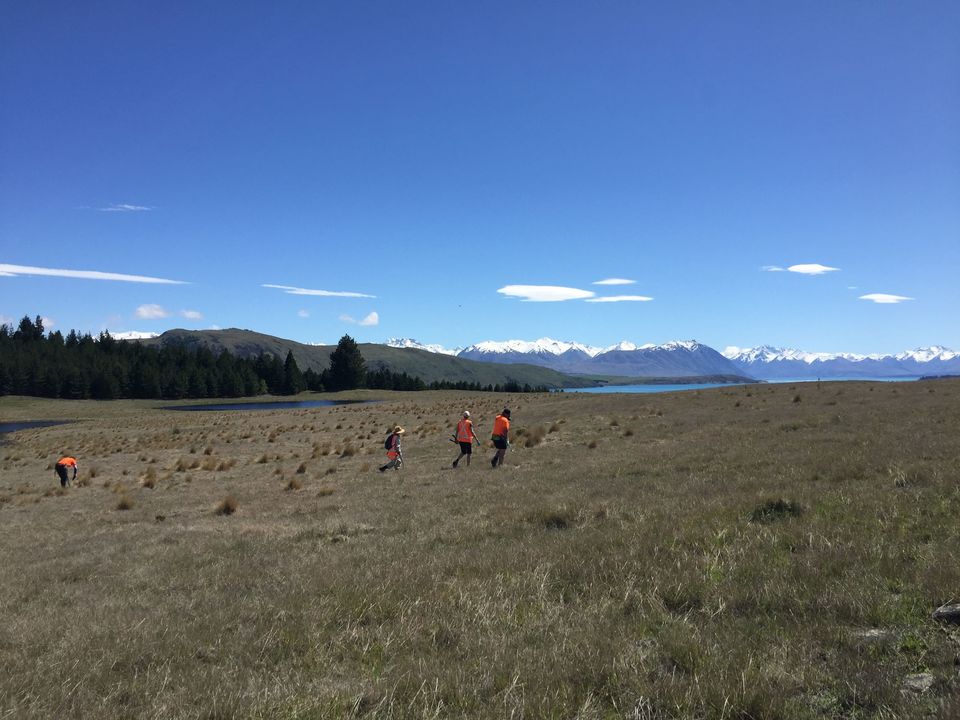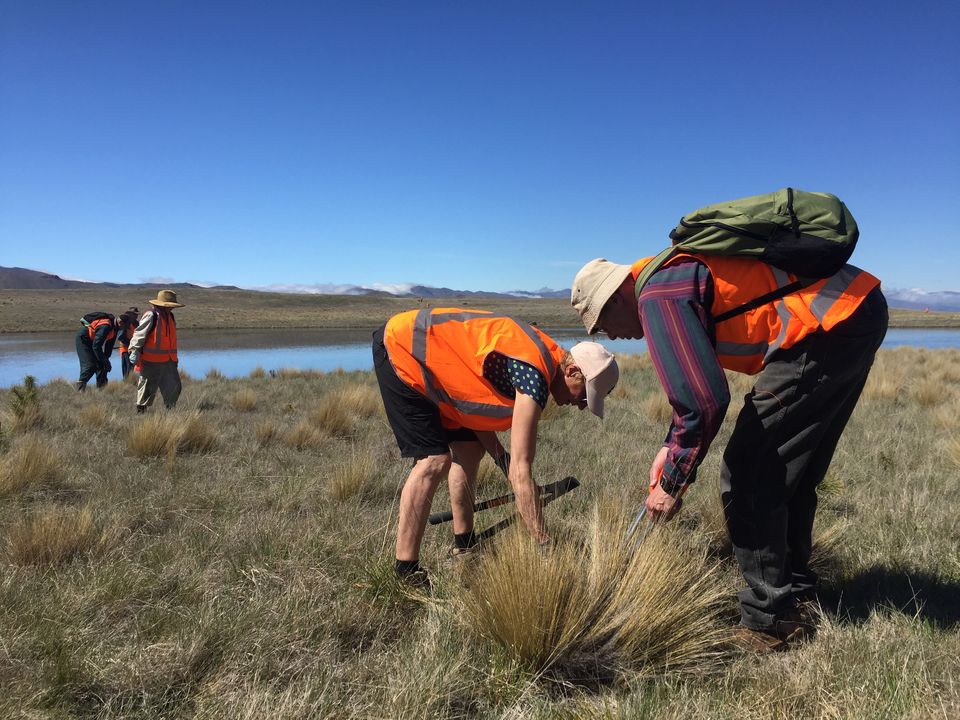 October 2021 - Tekapo Scientific Reserve
The wilding pine volunteer season got off to a cracker start over the weekend with a top effort from everyone attending the community volunteer day at Lake Tekapo Scientific Reserve. We had perfect weather, a stunning location, and a fantastic group of hardy volunteers full of enthusiasm and a genuine interest in understanding the issues associated with wilding pines. Saturday's efforts have helped to protect the many ephemeral tarns and the regeneration of the tussock drylands on this piece of precious Mackenzie land. They have also helped to suppress fuel loading and fire hazard, which helps to keep the Tekapo community safe.
Huge thanks must go to The Community Trust of Mid and South Canterbury for your support, and to Environment Canterbury and Mainland Vector for helping us to run such a successful day. Thanks also to Ministry for Primary Industries for all the freebies, and Department of Conservation Twizel for having us on your land. If you would like to learn more about wilding pines and how the control programme is going in the Mackenzie Basin then come along to our next community volunteer event in the Upper Ohau River near Twizel on Saturday 13 November, 10am - 1pm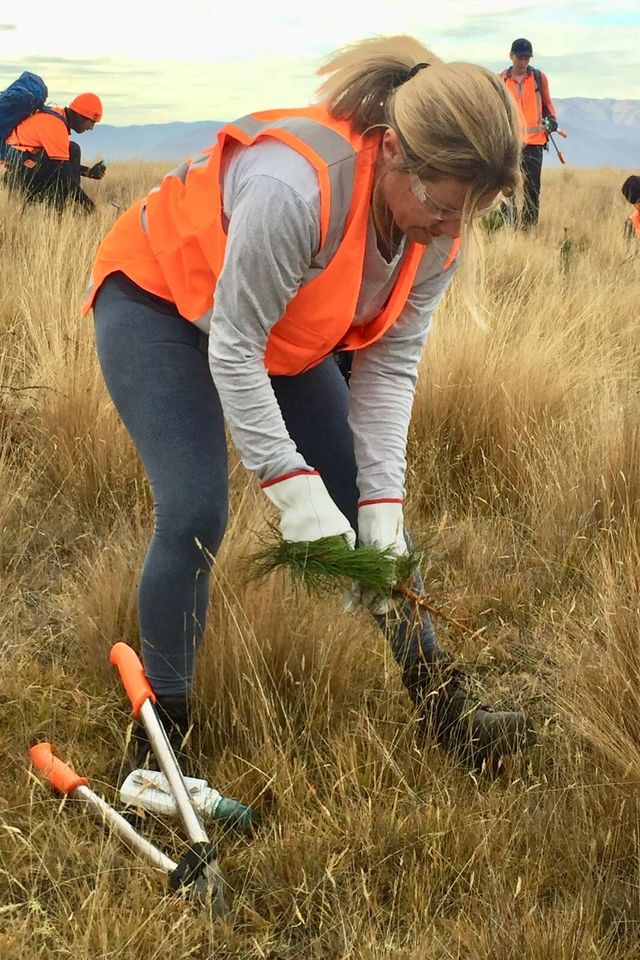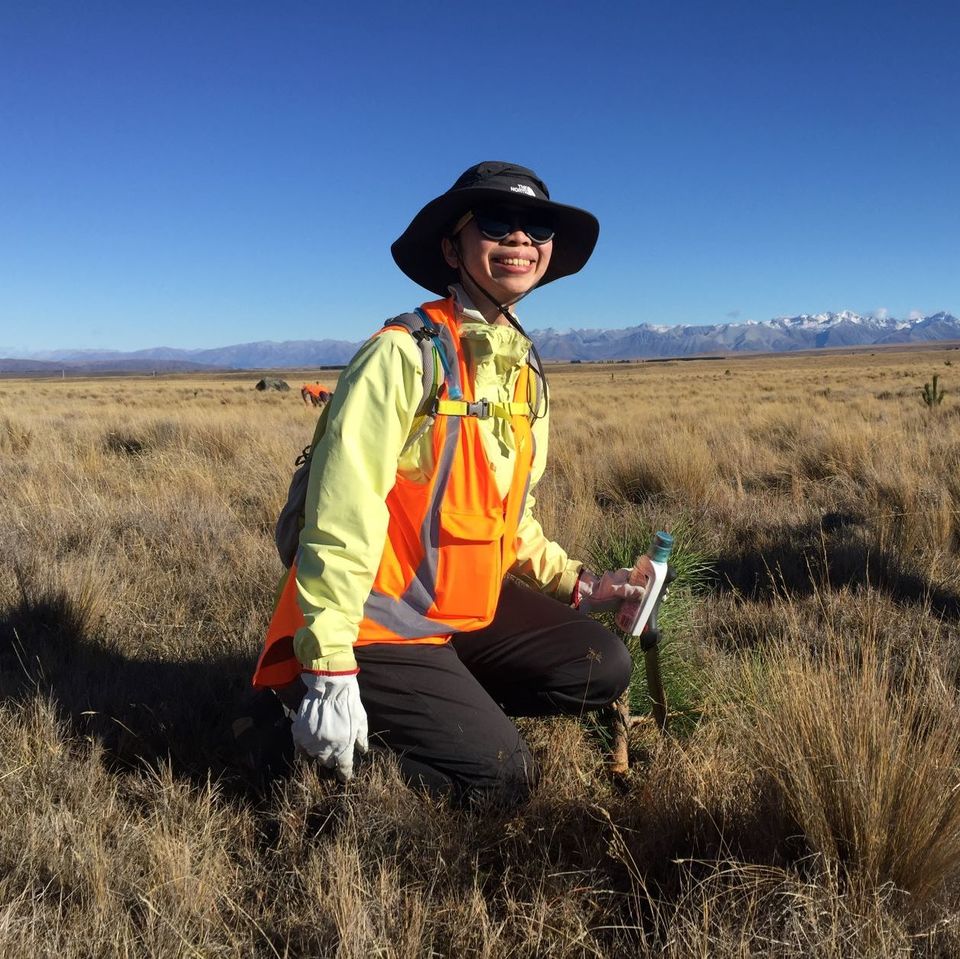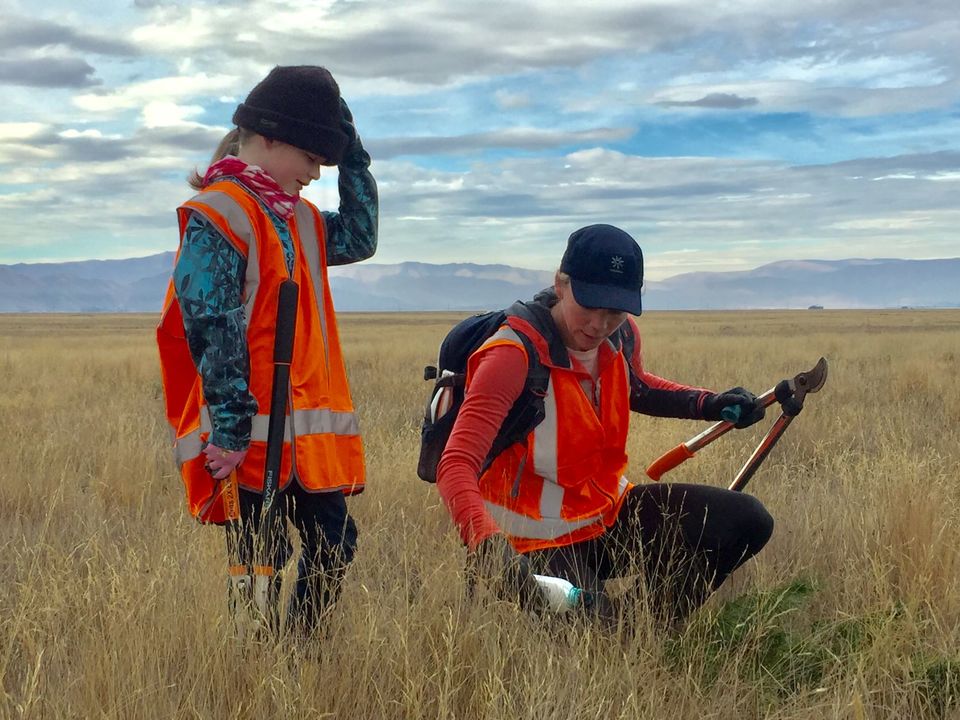 May 2021
Pukaki Flats and Tekapo Scientific Reserve
Thank you to all those who took part, supported, and were interested in our very first wilding pine volunteer days earlier in May. We appreciate your support!! Thank you to the Department of Conservation for allowing us onto your land at Pukaki Flats and Tekapo Scientific Reserve, to get the good stuff done. Thank you to Environment Canterbury for supporting us with equipment, staffing and catering, and thank you to High Country Contracting for working alongside our volunteers in the field and making sure they were safe and well briefed in what to do.
A total of 38.5 volunteer hours were recorded across the two events, with hundreds of young wildings (and therefore thousands of potential seeds) removed from the landscape. Thank you all for your hard work!! There will be more opportunities to get involved in community volunteer events in the spring.